The Evolution of the DIRECTV COM3000 – Headend TV Hospitality System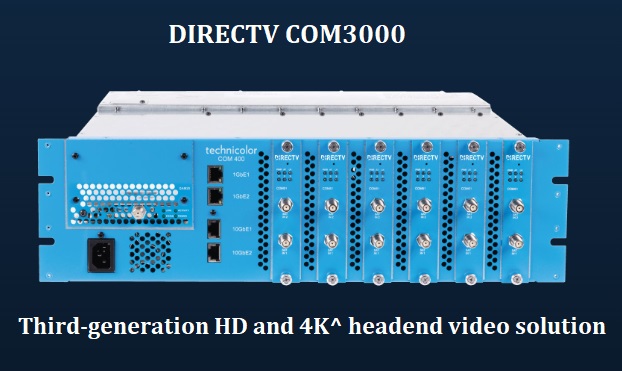 The New COM3000 Headend is the most recent in DIRECTV's range of ground-breaking headend television systems. For hotels, RV parks and campsites, assisted living facilities, senior living facilities, hospitals, campuses, universities, bars, restaurants, and other commercial applications, it is the smallest and most potent head-end TV system currently on the market. If you are looking for a hospitality TV solution that you can trust and rely on, it is a great option available to consider as of now.
How was the COM Headend System for Hotel TV start?
For DIRECTV Hotel TV Systems, Technicolour introduced the COM1000 in 2009. When it was first released, the COM1000 was an innovative HD headend system that completely altered how hotels with more than 250 rooms supplied TV service. It offered hotels a single-wire, affordable solution. Due to the same reason, it didn't take a long time for this hospitality TV solution to become popular among hotels.
The COM1000 Headend was created to bring additional HD channel capabilities, reduce space requirements, and cut the cost per channel of providing HD television content. With the COM1000, a single 4U chassis could accommodate up to 24 channels. This allows the hotel owners to provide a variety of entertainment options to the guests.
Prior to the release of the COM1000 in 2009, updating your hotel TV system to HD was an expensive and inconvenient procedure for hotels. For hotels and resorts with more than 250 rooms or without home-run type wiring across the property, it was much harder. Due to this reason, most hotels preferred going for the new hotel TV system. They could easily do it without spending a lot of money on infrastructure.
Plug and Play Results in Minimal Downtime
Prior to the COM1000, a major concern with upgrading for properties using an analogue headend was the amount of downtime needed to transition to HD. It was a need when a property required a full rewire due to a lack of home run wiring or when the new system required putting set-top boxes in-room. However, the new plug and play technology helped hotel owners to overcome this hassle as well.
It's a serious issue because you're talking about turning off the TV in every hotel room in a 24/7/365 business. A significant expense, in addition to the price of the new TV system, is the cost of closing down rooms. The plug-and-play hotel television platform offered by the COM1000 reduced downtime and did not call for keeping rooms empty during installation. This could provide a more convenient experience to the guests as well.
The COM Headend Revolution's Next Step
DIRECTV and Technicolour unveiled the COM2000 HD headend technology in June 2014. With the plug-and-play foundation and reliability of the COM1000 together with some amazing new capabilities, the COM2000 represented a quantum leap in technology. As a result, it started gaining a lot of positive attention among people. Here are some other benefits offered by the COM Headend
A similarly equipped COM1000 cost nearly half as much as the COM2000.
In comparison to a COM1000 or your present headend, the COM2000 utilised just 225W.
Only 3U of rack space was needed for the COM360 chassis, which is 25% less space than previous headend systems.
You could fit 8 HD or SD receivers on a single card thanks to the COM46-FLX receiver cards.
DIRECTV maintained its dominant position in commercial-grade TV system solutions for the hospitality, healthcare, hotel, and other lodging and institution facilities with the COM2000. In a 3U chassis the size of a desktop computer turned on its side, it allowed for the installation of up to 48 channels.
The COM2000 still had limits, however, since hotel television programming bundles from DIRECTV sometimes included 100 or more channels. Hotels and other lodging establishments were compelled to stack COM2000 chassis in order to provide all the channels their clients anticipate in their rooms since they had them at home. However, these drawbacks were not a major hindrance, when compared to the impressive benefits offered along with it.
The revolution of hospitality TV keeps going
DIRECTV's Next-Generation HD and 4K Headend Video Solution, the COM3000 Headend, is Now Available. Any hotel that is looking forward to getting a new hotel entertainment system or upgrading the existing hotel entertainment system can consider going for it.
The COM3000 Headend advances the TV service that hotel visitors are clamouring for. With the introduction of COM3000, the world of video underwent a significant transformation. This DIRECTV for Business video headend is of the third generation. It will provide firms access to more channels than ever before. They'll also discover that it's simpler to customise. Up to 138 HD channels, including 4K HDR content, may be delivered via the COM3000 Headend. Additionally, owners of businesses have the option to add channels one at a time, including internal and over-the-top (OTT) channels.
Through simple customisation, the platform may also assist companies in becoming ready for the distribution of video programmes in the future. Business operators may download software updates rather than installing pricey hardware when their customers' leisure and business demands change.
Supporting 4K
You'll notice right away that the COM3000 offers real 4K TV. The COM3000 is entirely future-proof since it will handle both the existing DIRECTV 4K channels as well as future HDR and high-bandwidth programmes. This can provide a top-notch television viewing experience to all the guests.
The COM1000 has been imitated by the competitors ever since it was released for use with DIRECTV Hotel TV Systems. even increasing the number of channels that can be fit into a single receiver card. One COM51A receiver card from Technicolour has up to 23 channels of channel access.
Remote Service and Management
Similar to the COM2000, the NEW Technicolour COM3000 headend can be accessed using a web browser, making it possible to change channels, do maintenance, or use channels to display welcome screens and local information from a distance.