Sun Comm Technologies , Inc Installs New Directv® DRE TV Programming System for Sandia Peak Motel August 2019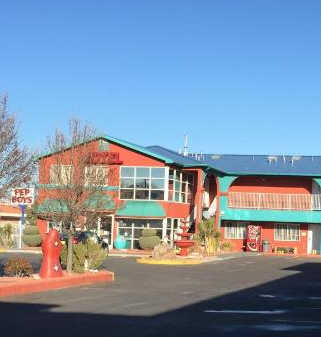 Albuquerque, NM, motel, Sandia Peak Motel, made a nice investment for its guests in August 2019 by installing the DIRECTV® DRE free to guest TV system in its property. Now guests at the motel will be able to enjoy amazing high quality TV entertainment while relaxing in their room.
State's Ruben Nunez, President of Sun Comm Technologies, Inc, the company that provided the DIRECTV DRE (Directv Residential Experience) equipment and installed and activated the DIRECTV TV programming for the system, "We are so happy to be part of the success of the Sandia Peak Motel, by way of providing them with the equipment, installation and activation services for their brand new DIRECTV Free to Guest TV system for its guests.
This casual, family-run motel along a stretch of Route 66 is 1.8 miles from Old Town Albuquerque and 3 miles from the zoo, aquarium and botanical gardens at the ABQ BioPark.
The relaxed rooms include free Wi-Fi and TVs with premium cable channels. Suites with whirlpool tubs and big-screen TVs are available.
Complimentary perks include continental breakfast and parking. Other amenities include a heated indoor pool and coin-operated laundry facilities. The parking area is decorated with Southwest-style art.
Sun Comm Technologies, Inc offers both the COM3000 from DIRECTV and traditional DIRECTV DRE SMATV (Satellite Master Antennae Television) headend Free To Guest TV systems. If your hotel or motel needs an analog upgrade of any type, repairs or a brand new COM3000 system by DIRECTV, give the company a call Sun Comm Technologies at 505-424-7223.